Text
This construction uses 2" XPS slotted rigid insulation (attached to wall through 1x3 furring strips) and 2" foil-faced polyisocyanurate rigid insulation (attached to furring strips) against the concrete foundation. The slab is insulated with 2" XPS rigid insulation under slab and the rim joist is insulated with closed cell high density spray foam insulation.
When constructing with plastic board foams, the building codes require that the foam not be left exposed as a fire hazard. Thermal barriers are required over both board foams and spray foams in many cases. Thermax™ from Dow is a thermally rated foam board insulation that can be left exposed and could be used in this system. Gypsum board could also be used to cover the insulation, but in some geographic areas, gypsum board can only be installed if the basement is electrically wired to meet the electrical code, which drives up cost substantially.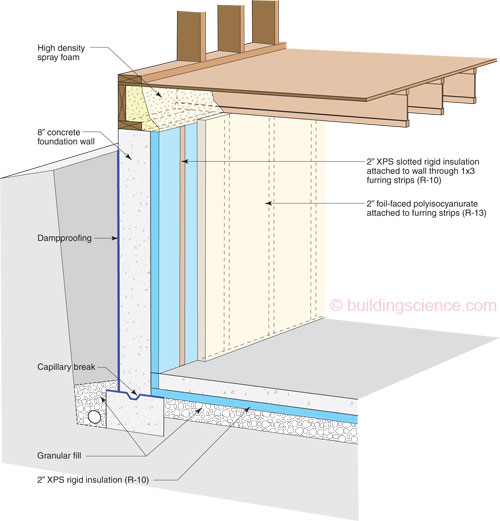 Foundation Wall
Free draining backfill
Dampproofing to grade
Concrete foundation wall

 (over a 

capillary break

 on the concrete footing)

2" XPS slotted rigid insulation
2" foil-faced polysiocyanurate insulation
Foundation Slab
Concrete foundation slab
6 mil polyethylene vapor barrier under slab
2" XPS rigid insulation under slab
4" stone pad (no fines)
Undisturbed/ native soil
Thermal Control
This proposed wall system performs very well thermally at approximately R-23, and in combination with underslab insulation and thermal break at the slab edge as shown above, the predicted annual heating energy loss is 15.8 MBtus, an improvement of 40.8 MBtus over an uninsulated wall for the case study house.
Moisture Control
Provided that air can not bypass the insulation layers, this strategy will not experience any moisture related issues from vapor diffusion, or capillary wicking. Capillary wicking is limited by the thermal/capillary break at the edge of the slab, and specified on top of the footing.
Constructability and Cost
The seams in the two layers of foam insulation should be offset and well sealed. A thermal barrier is required by code in most jurisdictions. Thermax ™ by Dow is a foil-faced polyisocyanurate insulation that is code compliant.
To finish the basement, drywall would be added, which obviates the need for fire control in the foam.
Other Considerations
A stud wall will still need to be constructed to finish this basement with services and drywall, so if the long term plan is to finish basement, this proposed wall system may not be the most economical choice.
Instead of using two different board foam insulations, it could be constructed with two layers of PIC, or two layers of XPS with drywall interior finish.
This basement insulation strategy is recommended as a durable, comfortable, and healthy basement system. 
---
Reference
Mitalas, G.P., Calculation of Basement Heat Loss, National Research Council Canada.