Text
This construction uses 2 layers of 2" XPS rigid insulation on the exterior of the concrete foundation wall. The slab is insulated with 2" XPS rigid insulation under slab and the rim joist is insulated with closed cell high density spray foam insulation.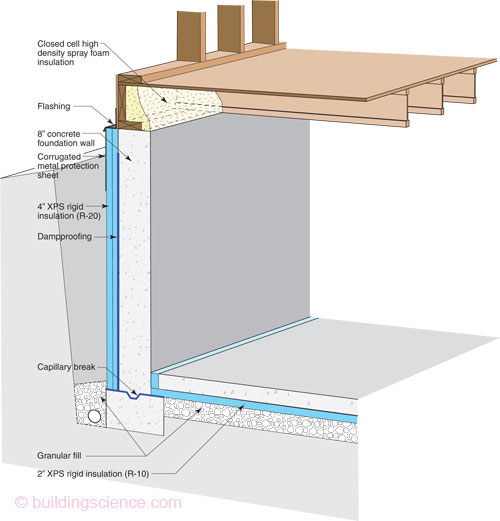 Foundation Wall
Free draining backfill
Corrugated metal protection sheet (to protect XPS rigid insulation above grade)
4" XPS rigid insulation
Dampproofing to grade
Concrete foundation wall

 (over a 

capillary break

 on the concrete footing)
Foundation Slab
Concrete foundation slab
6 mil polyethylene vapor barrier under slab
2" XPS rigid insulation under slab
4" stone pad (no fines)
Undisturbed/ native soil
Thermal Control
This proposed wall system has an installed insulation R-value of R-20 and results in heating energy loss of 19.43 MBtus for the specific chosen parameters. The advantage of insulating on the exterior is that the insulation on the exterior of the foundation can be joined with the exterior insulation on the first floor, which forms a continuous layer of insulation and vapor control. The thermal disadvantage of this system is that there is a thermal bridge through the concrete wall, and footing into the ground.
Moisture Control
Four inches of XPS is a great vapor diffusion resister and capillary break for inward moisture movement. There is still capillary wicking potential through the footing into the interior surface of concrete resulting in moisture at the interior surface evaporating into the interior space if it is not detailed correctly. This potential moisture issue can be solved by using a capillary break (either liquid applied or plastic based) on the top of the footing as noted in the design details. Unlike some of the other proposed foundation wall systems, the exposed concrete in this system will provide moisture buffering capacity, once it has dried.
Constructability and Cost
This proposed wall system with exterior insulation is perceived as difficult to the construction trades, and the finishing of the above grade portion may not be architecturally desirable. In some cases the timing of the insulation installation trades can be tricky since the entire house is not insulated at once in this case.
Other Considerations
In some cases, exterior foundation is not allowed by the building code due to complications with termites and other insects. Where insects may be an issue, High-R Foundation 12 proposed wall system could be used. 
---
Reference
Mitalas, G.P., Calculation of Basement Heat Loss, National Research Council Canada.