Project Team: Greencraft Builders, LLC, Building Science Corporation
Location: Prosper, Texas
Description: 3,323 ft2 one-story single family home
Completion Date: January, 2009
Estimated Annual Energy Savings: Average 52.7% projected source energy savings relative to the 2008 Building America Benchmark
Project Website: www.greencraftbuilders.com/greenspointhouse.html
Overview
BSC collaborated with Greencraft Builders in Prosper, TX on a 2008 prototype house called the Greenspoint House. This house demonstrates the energy efficiency and durability upgrades that Greencraft has been promoting for years. The architect for the Greenspoint house was William Peck and Associates, out of Lewisville, TX. The Greenspoint house is located in Prosper, TX.
BSC provided consulting services for Greencraft and recommended numerous efficiency and durability improvements. Key upgrades include an unvented roof with low density spray foam insulation and supplemental dehumidification. Other upgrades that contributed to increased building efficiency and durability are LoE3 next generation spectrally selective glazing treatment and a high efficiency HVAC system.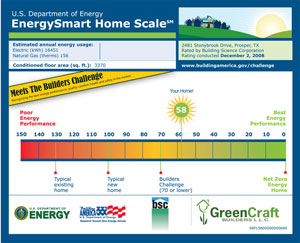 Builders Challenge Certificate
Enclosure Design
Greencraft employed full advanced framing throughout the enclosure. This includes 2x6 at 24" o.c. with stacked framing through the floor joists and roof rafters. A single top plate and 2 stud energy corners minimize thermal bridging in the wall system. The wall and roof are insulated with low density spray foam. One-half inch OSB sheets are installed at the corners for structural integrity.
Three-quarters of an inch of unfaced XPS is installed as insulating sheathing on the walls. The enclosure does not contain any impermeable components and this allows accumulated moisture to dry out via vapor diffusion and prevent wetting and subsequent mold.
The Greenspoint house was able to procure, with help from BSC, vinyl framed windows with state of the art LoE3 spectrally selective glazing coating. This resulted in an NFRC SHGC rating of 0.21 as well as a U-value of 0.35. This glazing coating, coupled with extensive overhangs in the floor plan, results in a greatly reduced cooling peak load and annual cooling energy use.
Roof Insulation: Unvented conditioned attic the 81/2" R-30 low density spray foam installed to the underside of the roof deck and on vertical gable end walls.
Wall Insulation: 2x6 walls at 24" o.c. with 51/2" R-19 low density spray foam insulation installed in the stud by onto 3/4" exterior OSB.
Window Specifications: Vinyl frame Lo-E3; U=0.33, SHGC=0.21
Air Sealing: Enclosure air sealing is provided via low density spray foam being installed on all walls and roof of the building. Low expanding spray foam is installed around windows and penetrations. Sealants and adhesives used between framing components.
Uninsulated Slab: Uninsulated slab-on-grade with sloping gradient and mulch for proper drainage.
Drainage Plane: Tyvek® ThermaWrap™ spun housewrap serves as a drainage plane behind fiber cement clapboard.
Infiltration: 2.5 in2 leakage area per 100 ft2 envelope
Mechanical Design
A high efficiency duel fuel heat pump/sealed combustion gas furnace (15 SEER/8.5 HSPF-93% AFUE) is installed along with a stand-alone dehumidifier in the unvented roof. The duel fuel heating will allow the heating system to switch from the air source heat pump to the gas furnace when the outdoor temperature drops below 40 °F to maintain a high level of heating efficiency.
The entire duct system is located in the unvented conditioned attic is sealed extremely tight. Jump ducts provide passive returns from the bedrooms. High efficiency exhaust ducts are installed at all the bathrooms and at the kitchen hood.
Greencraft Builders utilizes Central Fan Integrated Supply (CFIS) ventilation that draws outside air via a 6" flex duct to the return plenum of the HVAC system. This allows for the introduction of outside air to the living space whenever space conditioning is already operating. The SCI ERV Super thermostat has fan cycling included in its circuitry. Fan cycling will turn on the fan at a 33% duty cycle (10 minutes on, 20 minutes off) in order to provide outside air during periods of no space conditioning. A manual damper is installed on the 6" duct to allow the installer to reduce flow to the recommended 50 CFM if needed during commissioning. A 6" mechanical damper is also installed on the 6" outside air duct. This is controlled by the fan cycler and will close off the outside air duct during periods of constant space conditioning to prevent over ventilation of the living space.
Bathroom exhaust fans plus a kitchen hood are installed to provide spot ventilation when necessary. These are all routed to the outside and are not re-circulating fans. One of the bathroom fans is rated to provide ASHRAE 62.2 ventilation so that the house can be operated at that rate if needed.
HERS Index Score: 58
Heating: Duel fuel 9.5 HSPF heat pump/sealed combustion 93% AFUE gas furnace
Cooling: 16 SEER heat pump
Supplemental Dehumidification: GeneralAire Model 1300 whole house dehumidifier configured to draw air from main living space and supply dehumidified air to the supply plenum. This allows for dehumidified air to be distributed throughout the house and for the dehumidifier to run only when dehumidification is needed.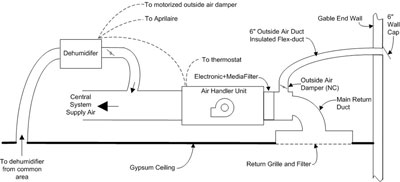 Supplemental dehumidification schematic
Ventilation: Central Fan Integrated Supply Ventilation controlled by Aprilaire 8126 Ventilation Control System (VCS)
Return Pathways: Jump ducts at bedrooms
Ducts: R-8 flex ducts in unvented conditioned attic; leak-free to outside (5% or less)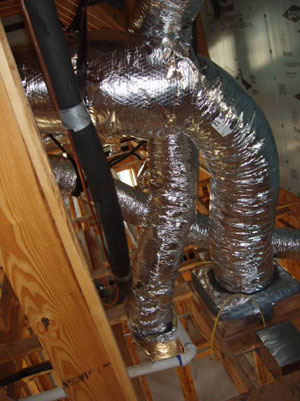 DHW: Natural gas 0.82 EF instantaneous gas hot water heater
Appliances: ENERGY STAR® dishwasher, refrigerator and clothes washer
Lighting: 100% ENERGY STAR® CFLs
Site Generated Power: None
System Testing
Testing and commissioning of the building enclosure and mechanical systems was performed to ensure the house will operate as designed. The following tests were performed:
Air leakage
Duct leakage
Local air flows
System external static pressure
Outside air duct air flow
Proper configuration of SCI Super ERV thermostat with fan cycling control
Monitoring
Monitoring plans have not been discussed at length as of this time. Building Science Corporation may install a monitoring system similar to the Bannister 2007 house. This would include T/RH HOBOs installed throughout the house and unvented attic plus HVAC run time monitoring.
Lessons Learned & Future Projects
Greencraft first observed incorrect installation of the Tyvek® ThermaWrap™ drainage plane over the window headers. The housewrap was initially lapped behind the nailing flange rather than over it. The installers had to come back and install a cut piece of housewrap over the header with acrylic based adhesive backed polypropylene tape (Tyvek® Tape). The installers have been instructed how to properly install the housewrap in future Greencraft homes.